Also known as foam peanuts or foam popcorn, packing peanuts are a type of loose fill packaging and cushioning material which helps protect and secure delicate items during shipping and transportation. These are intelligently designed to engage with each other when compressed so as to form a layer of protection around the product. Roughly the size of an unshelled peanut, these are used for void filling and protecting items. Packing peanuts loose filling is great for protecting and keeping fragile items safe.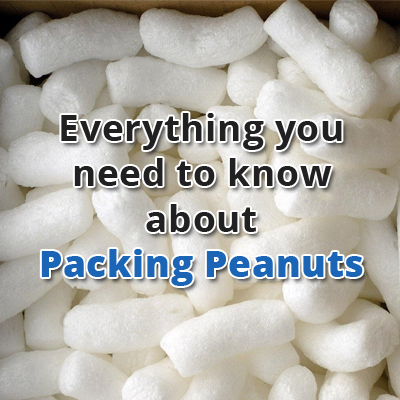 Benefits of using Packing Peanuts
Let us look into the main benefits that packing peanuts provide as a packaging material – 
Strong and Effective
One of the main reasons for the popularity of packing peanuts is that these are strong and effective packing material which helps keep the cargo safe. Packing peanuts are generally made up of styrofoam and diligently shaped for absorption tendencies and strength. This efficient loose fill packaging material is able to withstand the bumps and protect the cargo from damage. Globe Packaging's loose fill packing peanuts is known for its strength and durability.
Environment Friendly
One of the main drawbacks of the very early packing peanuts is that they were eco-friendly and would do a great deal of harm to the environment. But with the advent of biodegradable and environment friendly packaging peanuts, the popularity of this loose fill packing material grew to newer heights. We, at Globe Packaging take great pride in saying that we are the UK's leading supplier of biodegradable and eco-friendly packing peanuts. We provide Ecoflo Biodegradable Loose Fill and Flopak Super 8 Loose Fill. These new age and eco-friendly packaging peanuts help reduce the carbon footprint on our beautiful planet.
Cost Effective
One of the greatest advantages of using packing peanuts is it's cost effectiveness. Loose fill packing peanuts are affordable and reusable as well. This means that packing peanuts can be used over multiple times to help secure the consignment. Hence it directly translates to significant cost savings in transportation and shipping. We offer the best and effective loose fill packing peanuts at very attractive prices without breaking your budget.
Uses of Packing Peanuts
It is very important to understand the exact uses of packing peanuts. Not all products or items are to be packed using this loose fill material. For e.g. packing peanuts produce static electricity and hence not recommended for delicate electronic goods. Packing peanuts are an ideal void filling or packaging material in the following situations –
When packing oddly shaped objects packing peanuts are the perfect choice to fill in the empty spaces.

Protecting delicate and fragile items like handicrafts, ceramics, vases or other home decor items.

For packing a smaller product into a bigger box.

For delicate and inexpensive antiques like artwork, statues and photos.
The right way of using packing peanuts
Packing peanuts are one of the most versatile packaging materials but one needs to know how to use them to get the maximum benefit. Here a few tips to help you learn the basics of packing when using loose fills – 
Pack it firm and secure
One of the most important things about packing peanuts is that they need to be packed tightly. This is because to protect and secure the cargo from bumps and external pressure. If not secured firmly packing peanuts may not be able to protect the goods.
Layering between objects
When securing delicate items it is always mandatory to provide a layer of material between the objects. Else the tightly packed packing peanuts will be of no use. This is why most professional packers always use cardboard layers to separate the objects.
Make sure to fill in hollow products
All hollow items or products have to necessarily be packed with crumbled paper before packing the entire cargo with packing peanuts. This is to ensure that the delicate items do not crack due to the external pressure.
We are proud to announce that Globe Packaging has been able to fulfill one of our very dear customer's requests for over 3 million packing peanuts for this fun-filled prank video. Check it out here –